Are you ready for photo overload? Callie emailed me a couple weeks ago and I saw a little peek of her house. I practically begged her to show me more! And I'm so glad she agreed to do a full tour here. I think her home is the *perfect* way to do neutrals. I'm always harping on the finding balance with warm and cool tones in a room. That's true for neutral rooms too! This means you should mix your black and brown tones, your creams and grays. And if you want to throw in a random splash of color by way of a vase or small piece of art - well that's all the better!
I hope you enjoy Callie's house tour as much as I did. Here she is sharing some of her approach to decorating her lovely home (with a list of sources at the very bottom):
We built our home about a year ago, and I really took a lot of time to think beforehand about the look I wanted, both in the design of our home and in decorating it. Looking at images on blogs really is what gave me inspiration for my home, and I spent A LOT of time doing it. Images that I kept on coming back to were rooms by Ryan Korban and Mary McDonald. I really didn't want an overload of anything TOO bloggy or trendy though, because I knew I would get tired of looking at it!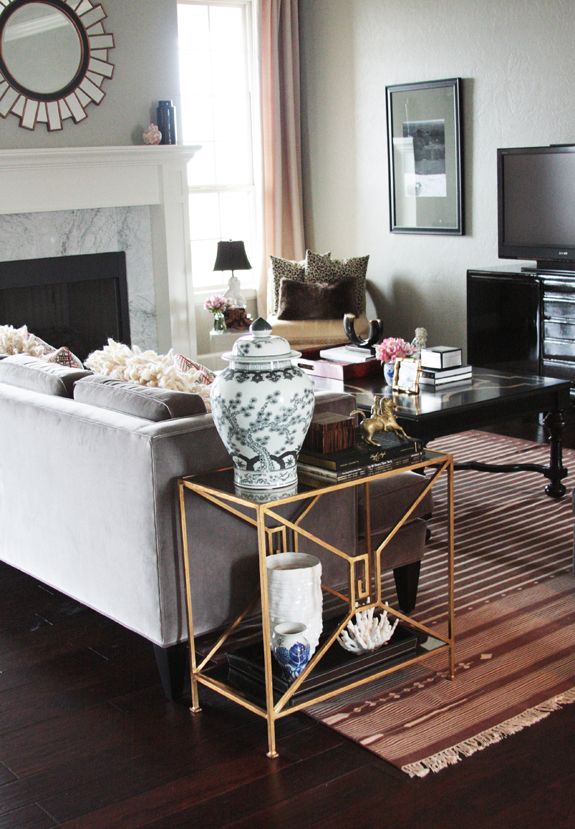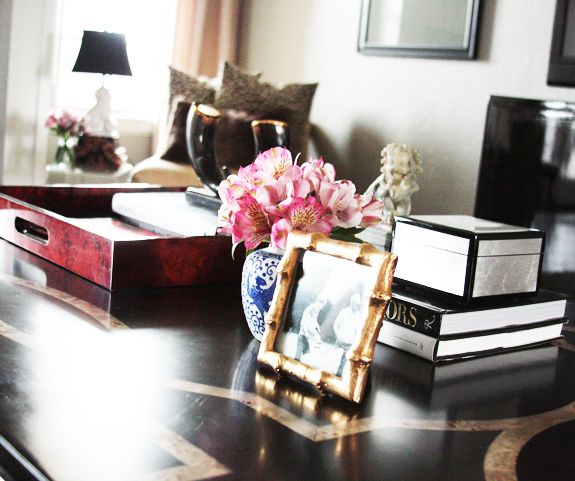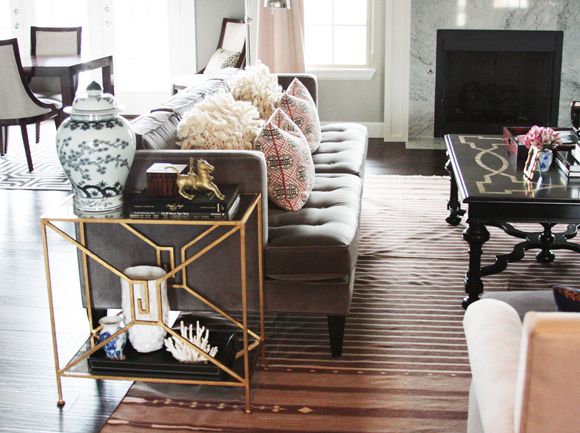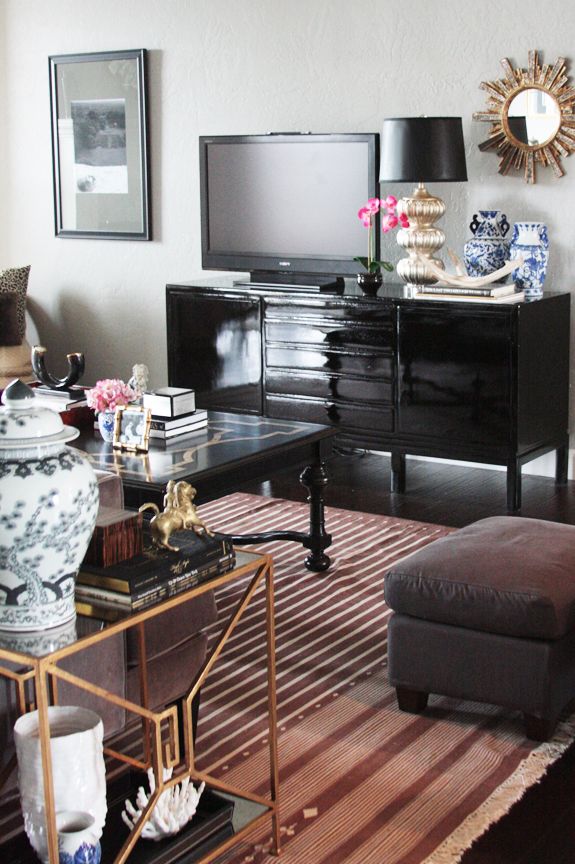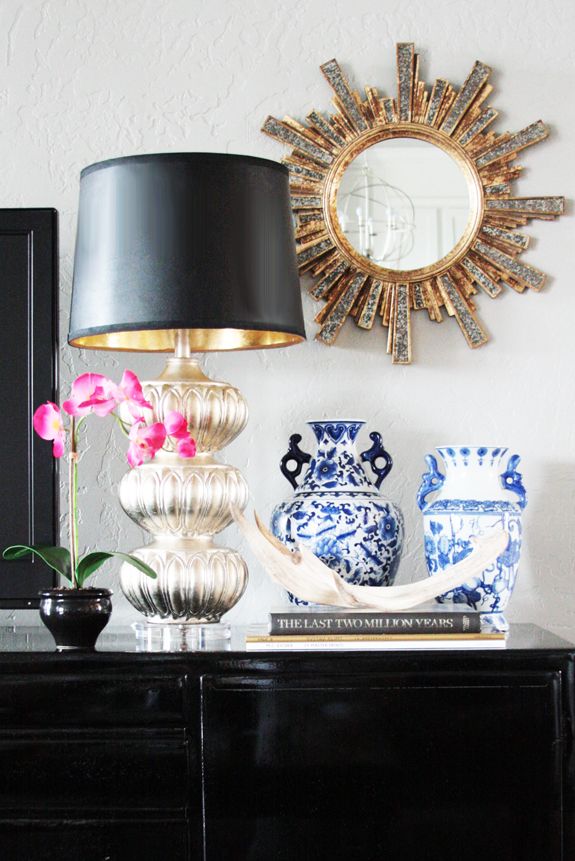 -I signed up for emails from a bunch of sites... then I waited for the sales to happen. :) Because I live in an area where there aren't a ton of different stores, I bought a lot of items online. And because I was (mostly!) patient, nearly everything I ordered online I either got on sale (sometimes MAJOR sale!) or free shipping. Even the items I picked up at local stores were mostly on sale.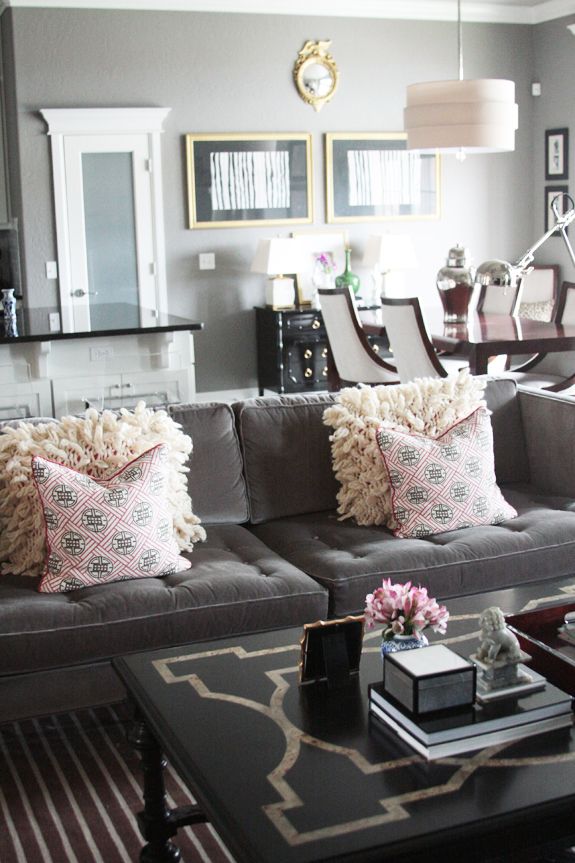 As much as I love the look designers create, I LOVE getting good deals! Nothing is better than telling someone, "Originally that was $XXX and I got it for $XX!" I've tried to see decorating my house as a marathon, not a sprint.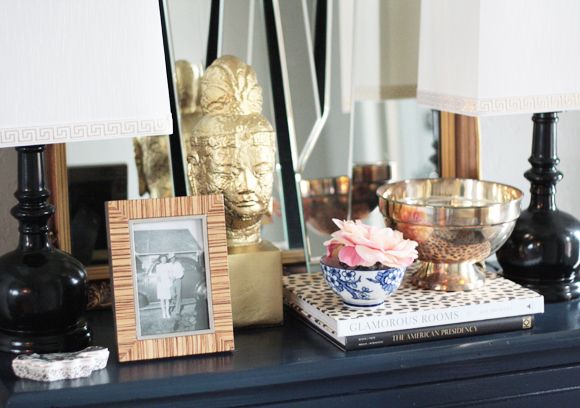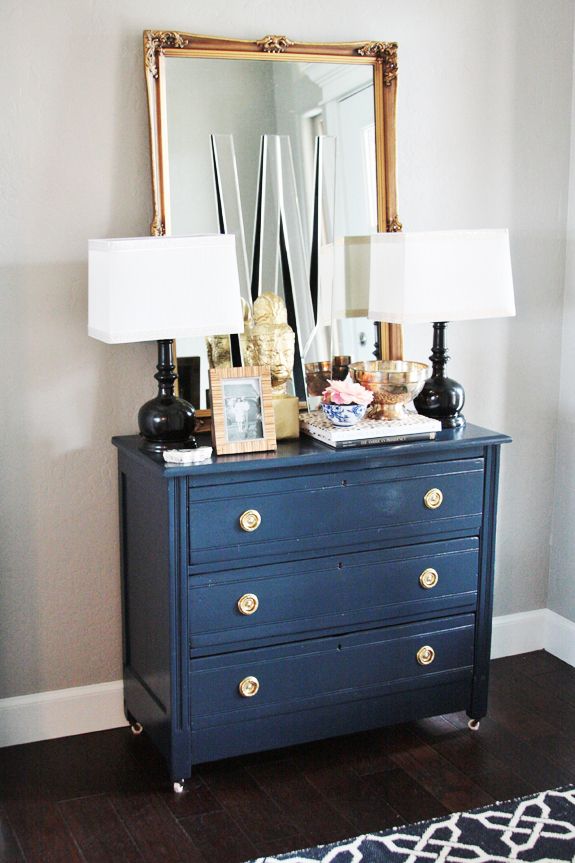 -I really only tried to purchase something that I could see in a specific spot in my home-- what I found was that when I didn't have a particular place in mind, I ended up not really liking what I picked up and felt like I wasted my money.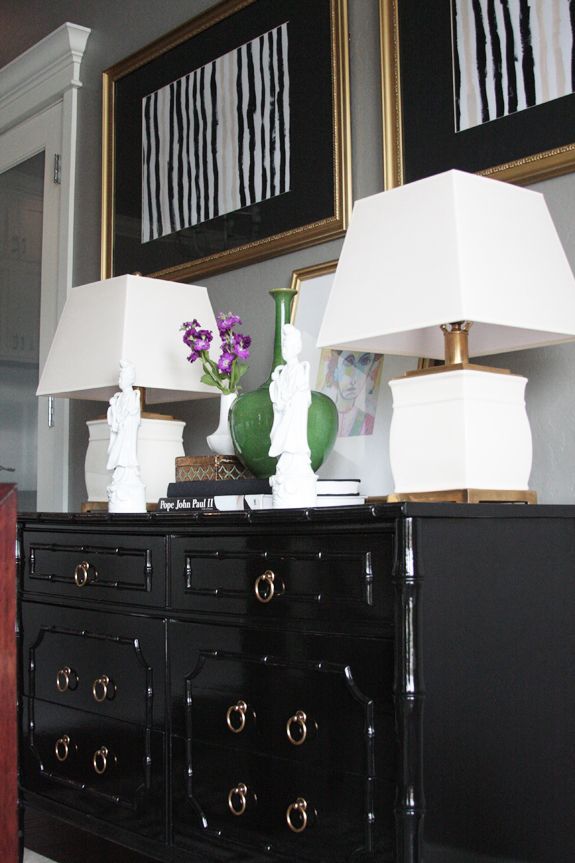 -Antique stores! And antique stores! And antique stores! I typically found a similar look to what I had seen online by going to a ton of antique stores... sometimes it took a little digging and patience, but I usually found what I was looking for at a fraction of the price I would have spent online (and usually even cheaper than on etsy, eBay, or One Kings Lane, although I have found some awesome deals there). AND I love the fun little things I came across as I was looking for something specific! That is where I got my instant gratification as a reward for all that waiting I'd done for online purchases. :)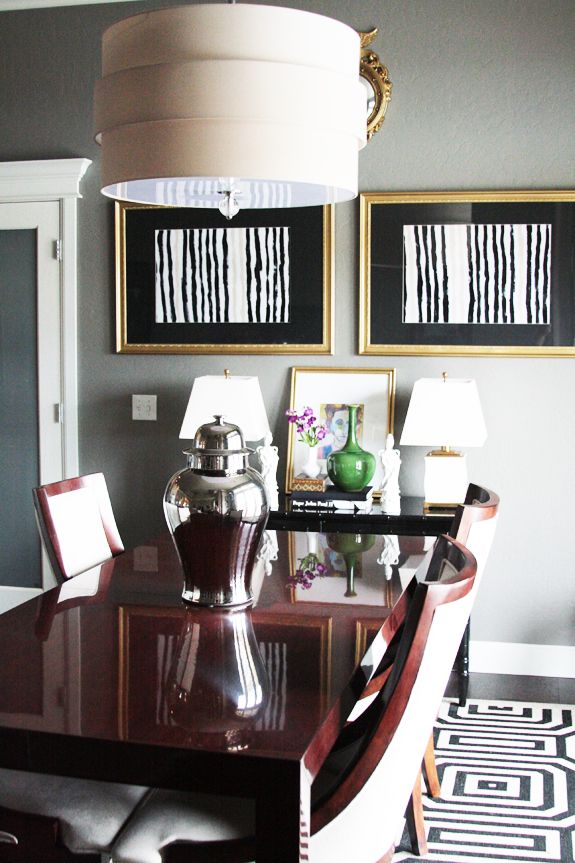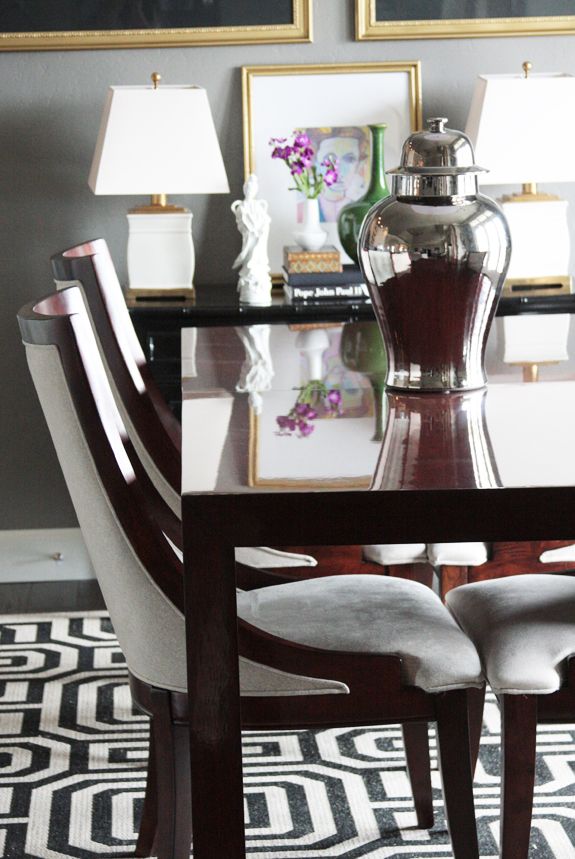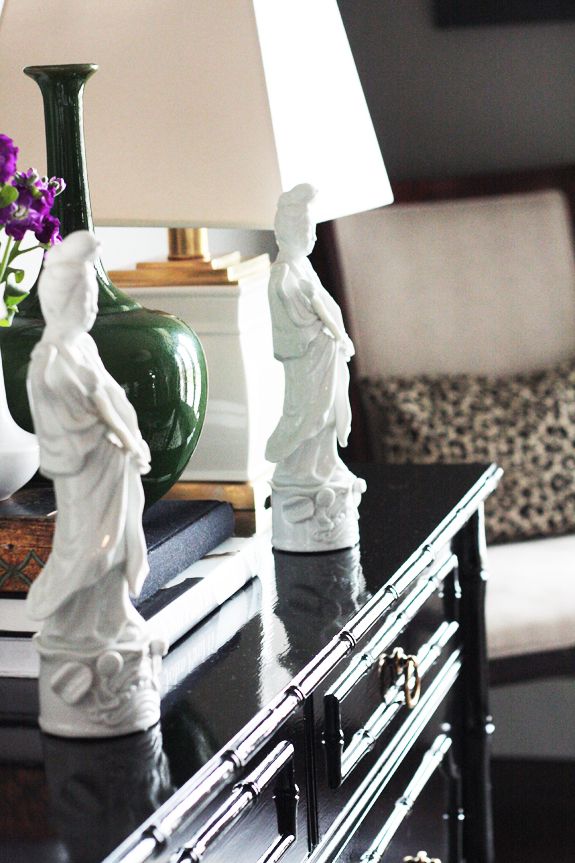 -Where I really saved-- accessories (by doing what I typed above), artwork (Hobby Lobby does custom cut mats for really cheap and I did most of the artwork by myself... and I am NOT an artist by any means!!), drapes (discount fabric sewn by my mom), and dressers/consoles (again, mostly all from antique stores and painted by my me or my dad).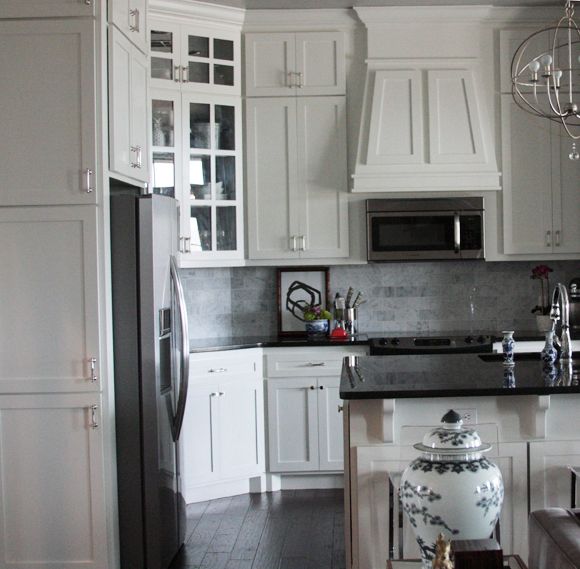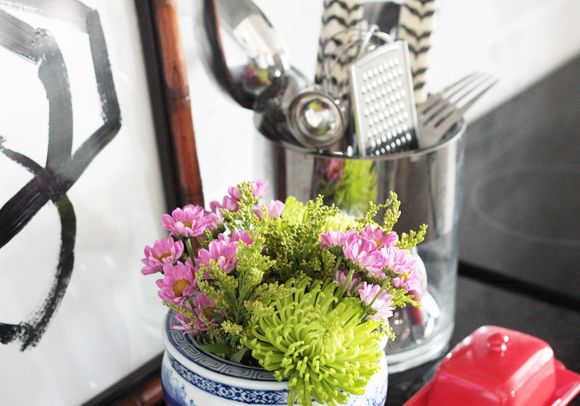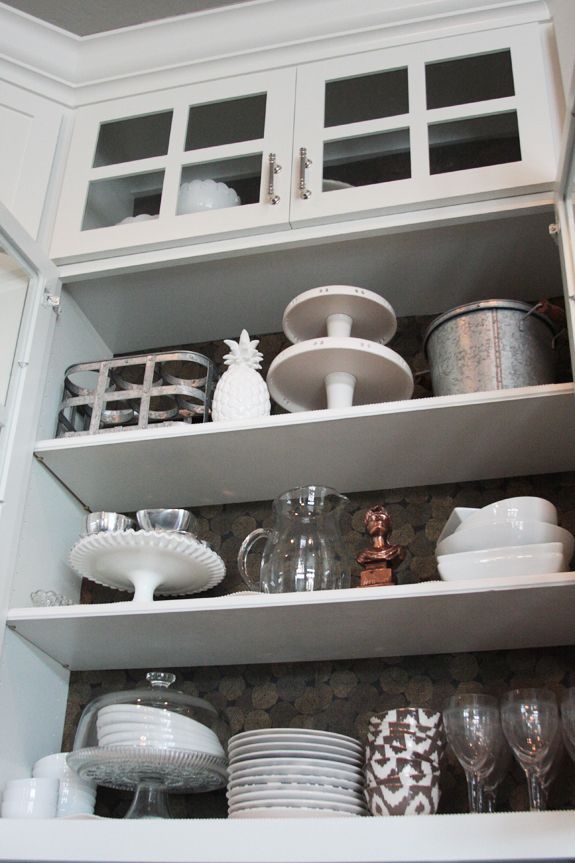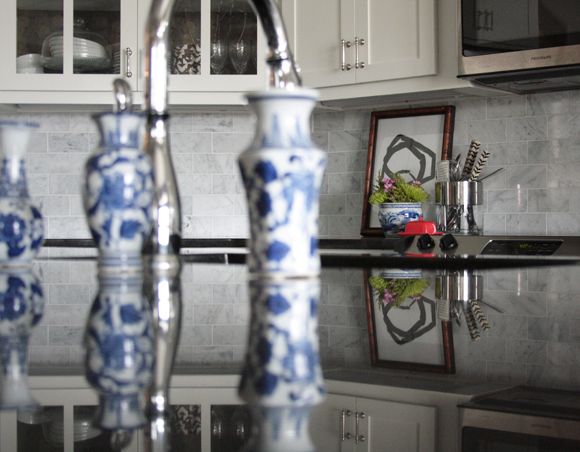 I splurged on both of my sofas and on my coffee table-- I saw the Hutton sofa from Room & Board and immediately knew it was the one because of its look and length (even though I looked for a cheaper version for about five months), and my husband sat on the leather sofa from Restoration Hardware and there was no changing his mind. I'm still a little uneasy about those splurges though!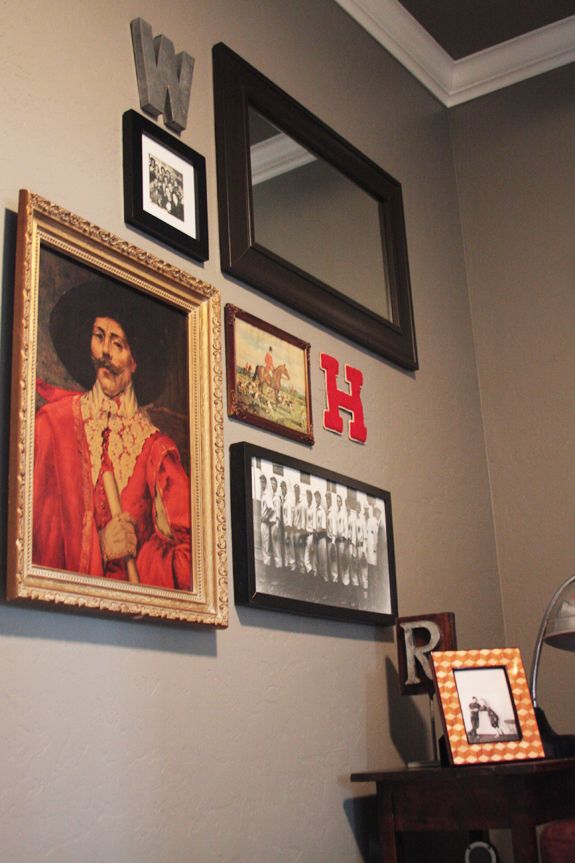 ENTRY
navy dresser- antique store (paint is Benjamin Moore, pulls from House of Antique Hardware)
gold mirror- craigslist
W mirror- Pottery Barn Kids
black lamps- Target
white shades- Target
greek key trim- Walmart
gold Asian bust- antique store
zebra wood frame- Pottery Barn
blue bowl- World Market
silver plated bowl- One Kings Lane
navy rug- One Kings Lane (Thom Filicia)
drum shade- Andrews Lighting in OKC
bird box- Anthropologie
LIVING ROOM
media console- antique store (painted by my Dad with black automotive paint)
gold lamp- Horchow
blue vases- antique store
antler- my parents' barn
pink orchid- TJ Maxx
small sunburst mirror- Hobby Lobby
coffee table- Horchow
burl wood tray- ebay (Williams Sonoma Home)
horns- Jayson Home and Garden
silver lacquer box- One Kings Lane (can buy at Plantation Home)
foo dog- etsy
blue vase- Goodwill
gold bamboo frame- One Kings Lane (Lunares)
floral notebooks- Anthropologie
lucite nesting tables- CB2
foo dog lamp- Tuesday Morning
wood root- antique store
horse statue- etsy
burl wood box- Teavana
Chiang Mai print tray- Furbish Studio
gold vintage chair- antique store
mink fur pillow- Restoration Hardware
leopard pillows- made by my Mom from fabric from Interior Fabrics in OKC
cream nailhead chairs- Gilt and Overstock (Safavieh)
blue handblocked pillows- West Elm
greek key side table- One Kings Lane (Worlds Away)
grey ginger jar- Williams Sonoma Home
Asian gold horse- antique store
zebra wood box- ebay (Williams Sonoma Home)
white vase- Mockingbird Manor in OKC
leather tray- World Market
white coral- Pottery Barn
blue vase- antique store
velvet sofa- Room and Board
pink Insignia pillows- Furbish Studio (Windsor Smith fabric)
wool and coral cotton pillows- Anthropologie
large gold sunburst mirror- Williams Sonoma Home
black jars- Pottery Barn
coral ginger jars- Williams Sonoma Home
silver task lamp- Williams Sonoma Home
brown rug- Wisteria
cream drapes- my Mom made from fabric from Interior Fabrics in OKC
curtain rods- Target
black frames and grey mats- Hobby Lobby
DINING/KITCHEN
dining table- Williams Sonoma Home
chairs- Horchow
silver ginger jar- One Kings Lane
graphic rug- Williams Sonoma Home
cream pendant- Horchow
black frames- Target
black bamboo dresser- craigslist (paint is Rustoleum, pulls from Lee Valley)
cream porcelain lamps- Williams Sonoma Home
Asian ladies- antique stores
gold box- antique store
green vase- Pottery Barn
gold bamboo frame- antique store
white vase- Pier 1
lines paintings- me, frames from Garden Ridge, black mats from Hobby Lobby
eagle mirror- antique store
lucite counter stools- CB2
blue vases- Wisteria
silver rim utensil holder- Pottery Barn
circles painting- me, frame from antique store
coral butter dish- Anthropologie
blue pot- TJ Maxx
Silver bamboo frame- TJ Maxx
Cream frames- Target
fuschia orchid- TJ Maxx
copper greek bust- etsy
white pineapple- White Barn
ikat bowls- Anthropologie
various white, glass, and metal serving pieces- Pottery Barn, Anthropologie, Target, and antique stores
black and gold mums paper- Paper Mojo
silver sphere pendant- Horchow (Solaris pendant from Crystorama)
MAN ROOM
leather sofa- Restoration Hardware
red plaid pillows- Ralph Lauren
wheat rug- Pottery Barn
round coffee table- Pottery Barn
brown leather tray- Pottery Barn
decanters and glasses- Pottery Barn, antique stores
vintage National Geographics- antique store
patch- Rugby by Ralph Lauren
wood side table- made by my brother-in-law Roger
silver lamp- picked up by my husband Russ somewhere before we met!
marquetry frame- Williams Sonoma Home
metal R on wood stand- Anthropologie
silver microphone- from my Dad
small white H letterman's patch- antique store
duke painting- antique store
vintage baseball print- antique store
large red H letterman's patch- antique store
fox hunt print- etsy
black mirror- Target
small black and white print- picked up by my husband Russ somewhere before we met!
metal W- Anthropologie
NYC Census Bureau map- One Kings Lane (Barbara Cosgrove)
subway sign- Pottery Barn
curtain rod- Target
cream drapes- my Mom made from fabric from Interior Fabrics in OKC
all books are from random places