Some of you asked for more information on my friend Vanessa's front room. Fortunately for Vanessa (but unfortunately for you), she thrifted her gorgeous sofas. The gray one was reupholstered and the orange loveseat was in perfect condition (she paid $20 for it!!). She did add the legs though. The chevron pillows were made from fabric purchased at Creative Fabrics in Arizona. There is a cow hide on the floor that she got at Home Goods for $200.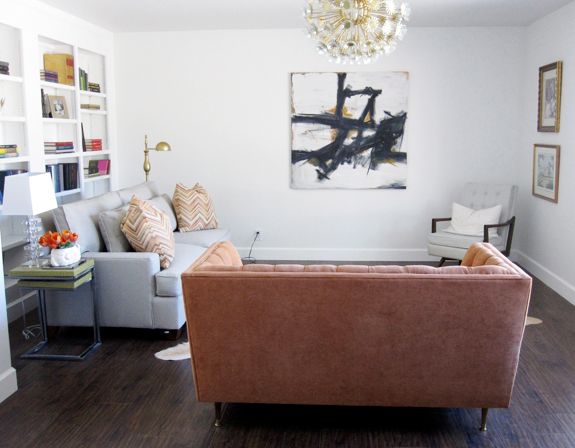 I especially love the abstract art. Vanessa bought a huge square canvas on sale for $40 at Michaels and used her son's oil painting kit to do her own version of this
Franz Kline painting
. I love how it turned out!
PS Today on Babble, I'm talking about
some other DIY abstract art projects
that I love.
PPS Yesterday I posted on my little miracle in a bottle.
This magical potion
REMOVES SHARPIE MARKER!!!