**A quick little update: I know you guys love my personal home and client decorating projects best (those are my favorite posts, too). I promise I'm not holding out on you without good reason. I've got some exciting things in the works that unfortunately prevent me from posting pictures just yet. But don't worry - I'm taking lots of photos of projects and I promise to share everything when I get the green light.**
I love mixing fabric textures in a room - linens with velvets with silks. But with kids in the house, the silks usually need to be pillows or curtains. Fine by me - I love silk curtains! I found an inexpensive silk fabric source in the garment district and had planned to just make my own panels. But then I stumbled on
these panels at JC Penney
for about $50 each. Real silk with lining? I couldn't pass that up.
I bought four panels for my long window wall, which should be just enough width to combine and make two very wide panels. I bought them extra long so I could sew in my own pleating (tutorial on the way!).
I got the Ming Blue color which, despite the preview color on the JCP site, looks like a mix between all of these curtains below. A dark, moody slate blue. I'm loving it.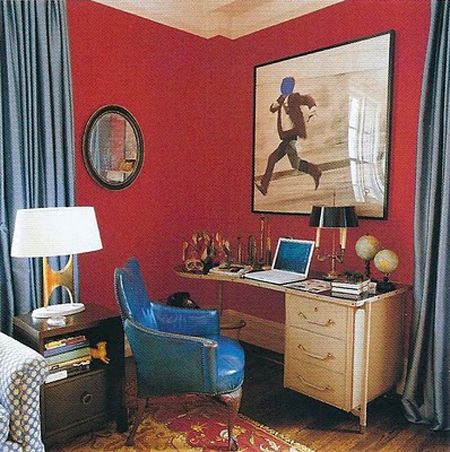 Kate Spade
Windsor Smith