I've been looking for side tables for our living room for a while - I wanted a very petite pair of chests with lots of storage and clean lines. I found this vintage set on Craigslist for $150, which included delivery. They came in absolutely pristine vintage condition and the scale is just what I had in mind. Love them.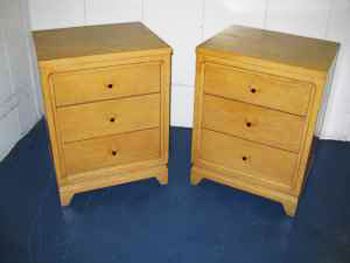 I've been really into blonde wood lately, so I would hate to cover up the finish on these, but the color is not really working with my ivory sofa and the new yellow carpet. I've been drawn to geometric decorative paint finishes and I think I could pull something like one of these off here:
Architectural Digest Espana
Adore Home Magazine
Paul Marra chest
Have you done anything similar? Depending on the pattern, I'd probably have to buy or make a stencil, but I think it could be a really fun project.