We lived in Brussels for a couple of months about two years ago. I fell in love with all the antique Louis Philippe mirrors that I saw at all the flea markets in Belgium and France. I didn't buy any because I was worried about the cost of shipping such a big heavy piece. If I could do it again though, I'd just get a half or a whole freight container and go crazy at all the fleas (are you listening to me
Gabby
and
Jordan
!?)
What I love best about these mirrors is how they maximize mirror surface area with out being a boring square shape. They are really big and help to brighten a room, but still lend some softness to a space with their rounded edges. Some of my favorite rooms featuring Louis Phillipe mirrors:
Ruthie Sommers in Cottage Living
Courtney Giles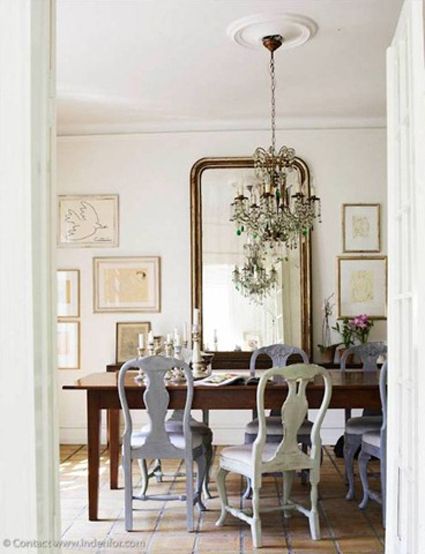 via things that inspire
Lonny
For those of us without thousands of extra dollars to spend on a gorgeous antique mirror at ABC or on 1st Dibs, IKEA sells a great
full-length version
for $99. Love it.
Or if you're in the market for a shorter wall mirror,
this one's on eBay
for $145. Wouldn't it be great gold or silver leafed or painted out in a fun color?